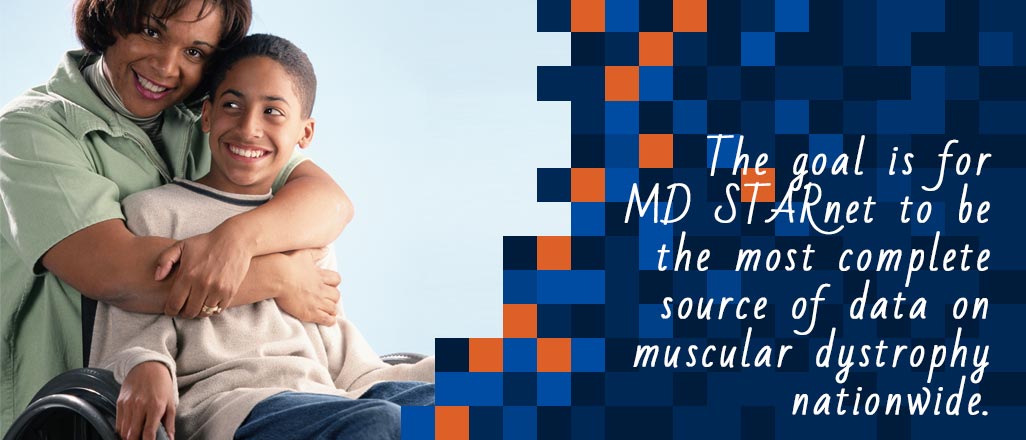 MD STARnet Goals
MD STARnet is the Muscular Dystrophy Surveillance, Tracking and Research Network. MD STARnet is the only research program designed to collect health information on everyone with muscular dystrophies (MD) living in specific areas of the United States.
Muscular dystrophies are a group of genetic conditions that affect the normal functioning of muscles. Most MD research programs collect health information only on people with the conditions who are treated by specialists at certain medical clinics. MD STARnet is the only program that collects data from multiple sources, including hospitals and state birth and death records.
By collecting health information on a large number of people from many sources, MD STARnet research can be used to help improve the care and quality of life for those living with MD.
Research from MD STARnet helps MD families, providers, and researchers better understand the symptoms of the conditions and healthcare experiences of people with MD. The more we know about the experiences of people with MD, the more we will learn about the course of the conditions and what factors lead to the best health outcomes.
MD STARnet is funded and managed by the Centers for Disease Control and Prevention (CDC) and is comprised of researchers at state departments of health and universities.
Benefits of MD STARnet
Findings from MD STARnet are reliable and can paint a more complete picture of MD for patients, their families, providers, researchers, drug developers, and policymakers. Findings from MD STARnet can help with symptom management and encourage standardized care across all clinics and health professionals.
MD STARnet in the Piedmont region of North Carolina
In September 2014 North Carolina was chosen by the CDC to join the MD STARnet project. The Piedmont region is the largest urban area in North Carolina, home to more than half of the state's residents, and the location for all four of the state's Muscular Dystrophy Association clinics and the Parent Project Muscular Dystrophy certified Duchenne center.
Adding our N.C. Piedmont region to MD STARnet allows researchers to explore racial disparities, which is a high research priority. The Piedmont region will be one of the first sites with a large population of African Americans. Our region's rich cultural and racial diversity will provide vital information that helps healthcare providers, researchers, and African American families living with MD better understand how common MD is and how it progresses in the African American community.
MD STARnet data
The MD STARnet North Carolina team is collecting information about people with specific types of MDs who live in the Piedmont region of NC.
The MD STARnet data will come from a wide range of sources. These include:
Piedmont hospitals that manage children and adults with MDs

Atrium Health
Duke
UNC Chapel Hill
Wake Forest

State administrative data

Birth and death records
Medicaid data

Individual healthcare providers treating people with MDs
The MD STARnet system does not share patient's names or contact information.